Exercise and Movement Sciences Concentration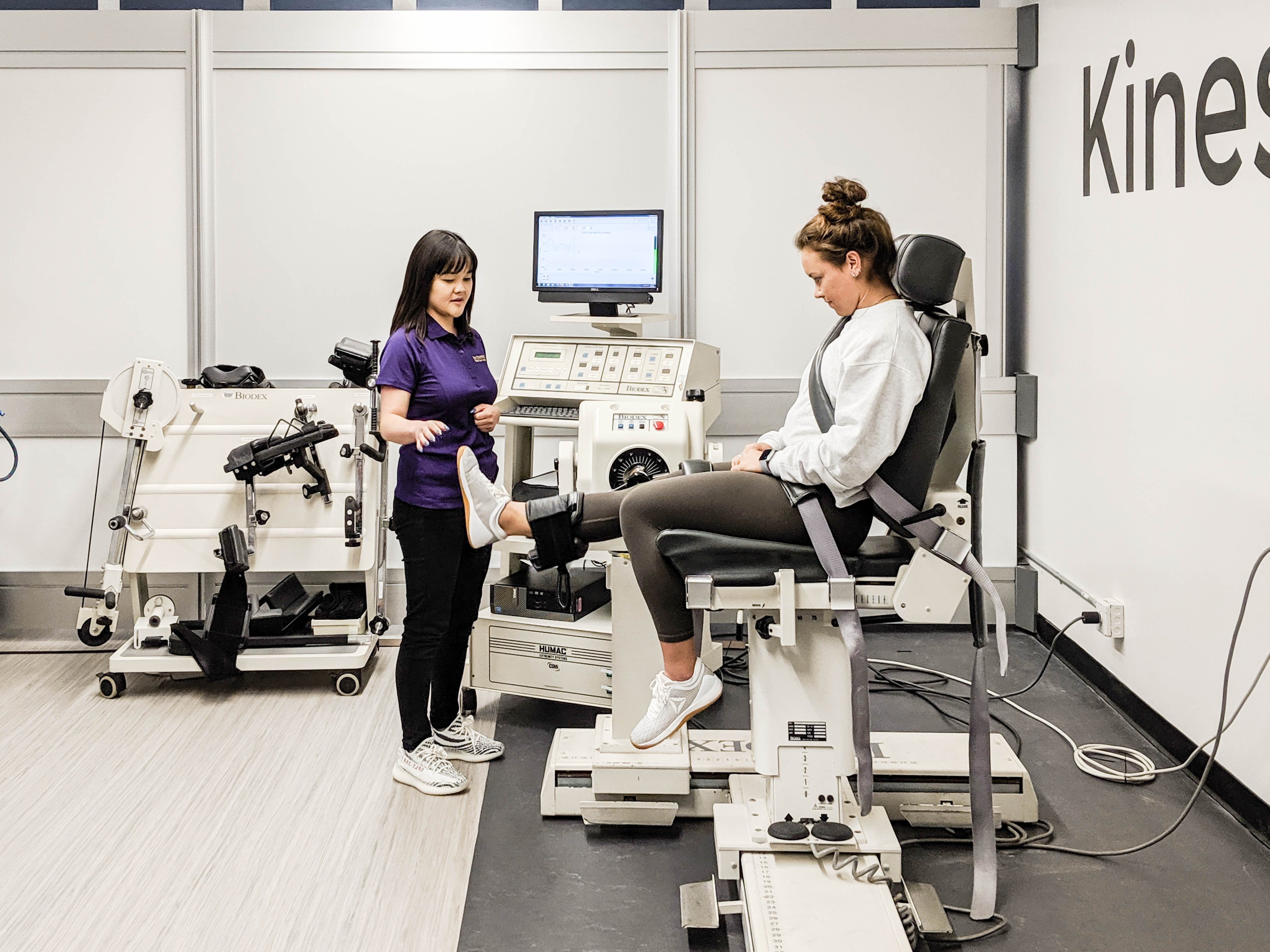 Bachelor of Science: Exercise and Movement Sciences
Students interested in biomechanics, exercise physiology, motor control, motor learning and development, sport and exercise psychology, sport history, sport sociology, sociocultural studies of physical activity, youth development and physical or occupational therapy. Qualified students will be equipped with the skills and knowledge needed for advanced study in any of the above-mentioned domains or for employment in fitness settings, physical activity programming, the sports media, sports industries and as consultants for agencies developing sports policy.
*The Exercise and Movement Sciences concentration is no longer an impacted program so students can simply change their major to enter the program. 
About 
The Exercise and Movement Sciences concentration prepares students for advanced study in a number of exercise and movement related fields. This degree concentration examines kinesiology from the perspectives of exercise physiolo­gy, biomechanics, motor learning and development, and the psychological and the social-cultural aspects of physical activity. The programmatic approach is multidisciplinary and invites study in the physical, biological and social scienc­es, psychology, philosophy and communication. The degree program examines those factors that influence the form, function and effectiveness of exercise and movement across the lifespan and for the disabled.
This degree concentration will prepare students who wish to become exercise physiologists or fitness specialists in clinical, research, educational, or business settings, or who seek careers in physical or occupational therapy, biome­chanics, motor learning and development and ergonomics. Students will also be prepared for advanced study in such fields as sport history, sport sociology, sport and exercise psychology and at-risk youth development. In addition, students who wish to pursue graduate studies in these areas will be well prepared to do so. Students will also be ready to pursue endeavors in the private sector.
Program Learning Outcomes
Students who complete the Exercise and Movement Sciences concentration should be able to:
Define kinesiology and its sub-disciplines.
Explain the value of, and advocate for, physical activity in terms of health, wellness and quality of life.
Analyze a variety of physical activities and their components from multiple perspectives.
Discuss how and why human performance changes.
Design interventions to maintain and improve human performance.
Critically evaluate information sources in kinesiology.
Recommended courses for transfer students to complete at a community college:
NOTE: All recommended courses are not used for admission decision. Must pass with a grade of "C" or better.
Human Biology & Lab OR General Biology I (Lab included)
Human Anatomy & Lab
Elementary Statistics
Survey of Chemistry OR General Chemistry (Lab Included)
Human Physiology & Lab
Conceptual Physics & Lab OR General Physics & Lab
Introduction to Kinesiology
Application Process
Starting Fall 2023, we will no longer be an impacted major.
Current SF State continuing students: 
1. Apply ONLINE via your student center
(a. On the left side drop down menu - select "Change of major")
(b. Select our College "HSS - Health and Social Sciences" and select our "department/concentration" that you wish to apply for)
Note: Students with 96 or more units can only change to Kinesiology with an exception form signed by the Kinesiology advisor. A departmental approved Change/Declaration of Major after Accruing 96 Units must be turned in to Main Office Gym 101.
Transfer Students:
1. Submit official Cal State application and indicate the concentration to which you are applying (i.e., Exercise and Movement Science or Physical Education).
2. Submit all documents to complete the SF State application to:
            San Francisco State University
            Undergraduate Admissions
            1600 Holloway Ave,
            San Francisco, CA 94132
Be sure to check emails from Admissions for directions and deadlines. You can also check your application status here. Transcripts must include Fall grades (Do not submit transcripts to Kinesiology Department; send directly to Admissions).
For inquiries about the impaction process or admission into Kinesiology contact Angelina Wong (email: kinesiol@sfsu.edu).
Additional Information
Powerpoint Presentations:
Videos
About the Kinesiology Department
About Integrated Teacher Education Program (ITEP)