Fit Plus
Fit Plus is a health and wellness program for faculty and staff at SF State. Our goal is to promote health and well-being for University employees. We offer a variety of fitness classes ranging from yoga, aerobics, swimming to strength and conditioning during lunch hours. This program is located in the Gymnasium building and is exclusively for faculty and staff only.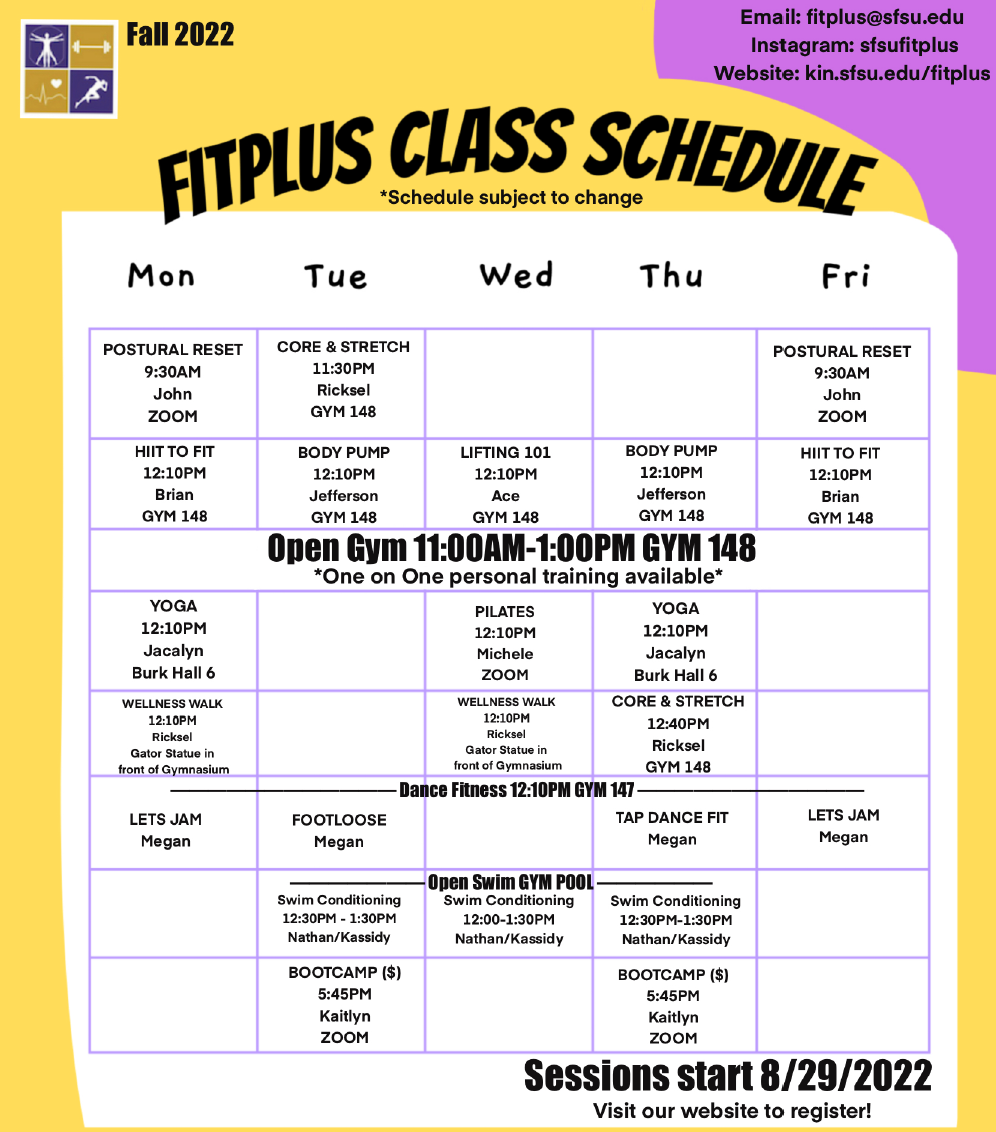 Note: Schedule is subject to change. Classes will be offered until the last day of final exams each semester
Contact
Department of Kinesiology: kinesiol@sfsu.edu 
John Penacerrada, Program Director: jpen@sfsu.edu 
Follow us on Instagram
Fit Plus: @sfsufitplus
Strength and Conditioning Lab: @sfsustrengthlab
Membership Fees

| Semester | General | Senior (62+) | OLLI |
| --- | --- | --- | --- |
| Fall | $80 | $60 | $30 |
| Winter | $30 | $25 | $5 |
| Spring | $80 | $60 | $30 |
| Summer | $65 | $60 | $25 |
| President's Package* | $230 | $185 | $81 |
| Dean's Package* | $180 | $138 | $62 |
  * President's Package =   Fall + Winter + Spring + Summer +10% off
  * Dean's Package =  Fall + Winter + Spring + 5% off
Complimentary with any membership
Personal Training Program (Available Spring/Fall Semester only):
Our student trainers will work one-on-one with you to help evaluate your fitness goals. They will also assess your cardiovascular endurance, muscular strength and flexibility through fitness testing, measure body composition and provide an exercise prescription.
Our student trainers are undergraduate Kinesiology students in the KIN 555 Exercise Testing & Prescription class. Our students will receive hands-on experience working with a client as part of their KIN 555 lab experience. They will gain the knowledge to provide fitness assessment, measure body composition and prescribe exercise based on the goals of their individual client. Our student trainers will be under direct supervision of a Kinesiology faculty.
Before registering, please read the waiver and release agreement below.
1. Online Registration
1. In-Person Registration 
Please fill out the registration form below and submit application with payment to Department of Kinesiology in GYM 101.
Card or check only
Please make check payable to SF STATE. 
NO REFUNDS are offered.
Our facilities are located in the Gymnasium Building.
Swimming Pool (GYM 121) 
Strength and Conditioning Lab (GYM 148)
Small Gym (GYM 147)
Yoga Room (BH 6)
Wrestling Room (Athletics) (GYM 149) 
Hatha Flow Yoga
Kripalu Yoga
Restore Yoga
Zumba
Buns and Guns
Pilates
Total Body Fit
Cardio Kick
Strength and Conditioning (Open Session)
Swimming Pool (Open Session)
TRX ($)
TRX
TRX is a 6-week fee based suspension training program that offers low impact body weight exercises to improve muscular strength, core stability, balance and flexibility.
Cost is $180 ($15/class) for the entire program. 
To register, please submit check to GYM 101
Program is limited to 8 spots
Must be a Fit Plus member to enroll
Lockers and showers are available in the Gymnasium building. Locker rooms are NOT included in the membership price and must be purchased separately. Locker rentals are $15 per semester.
How to Rent a Locker
Visit the Bursar's Office in-person or pay for a locker using our online ordering system.
Print out your order confirmation or bring your locker card (if paid in-person) and present it to the locker room attendant in GYM 120F
Locker room attendant will assign you a locker and towel. (We DO NOT provide locks)
Free trial is a available for new members to explore our classes or facilities. 
Visit GYM 101 to recieve a free trial card. You must present the trial card to the instructor.
Must be a new guest
Must be an SF State employee 
Limited to one per person
Valid for any classes or facilities 
Not valid for the TRX program