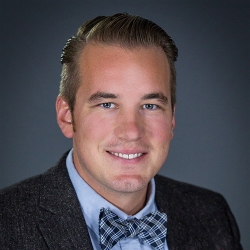 Phone: (415) 338-3363
Email: jrbagley@sfsu.edu
Location: Gym 139
Dr. Jimmy Bagley is an Associate Professor of Kinesiology and Director of the Muscle Physiology Lab, Co-Director of the Exercise Physiology Lab, and Research Director of the Strength and Conditioning Lab at SF State. Dr. Bagley has published over 100 peer-reviewed scientific articles, abstracts, and book chapters in the fields of muscle physiology, sport/exercise performance, and health technology (including virtual/augmented reality exercise). He collaborates with researchers from around the world with the overarching goal: to better understand human performance. Dr. Bagley's research has been featured in popular media outlets, such as the Discovery Channel, CNN, Women's Health, Men's Health, Runner's World, and NHK Japan.
Dr. Bagley earned his PhD in Human Bioenergetics from Ball State University, MS in Kinesiology from Cal State University-Fullerton, and BS in Kinesiology from Cal Poly (San Luis Obispo). He is an active member of the American College of Sports Medicine (ACSM), American Physiological Society (APS), and National Strength and Conditioning Association (NSCA). Follow him on Instagram/Twitter: @MusclePhysLab
Website(s): Muscle Physiology Lab
Selected Publications
Muscle Physiology
Sport & Exercise Performance 
Grosicki GJ, Durk RP, and JR Bagley (2020). Rapid gut microbiome changes in a world-class ultramarathon runner. Physiological Reports. 7(24) PubMed: 31872558
Durk RP, Castillo E, Márquez-Magaña L, Grosicki GJ, Bolter ND, Lee CM, and JR Bagley (2019). Relationship between cardiorespiratory fitness and relative gut microbiota composition in healthy adults. International Journal of Sport Nutrition and Exercise Metabolism, 29(3): 249-253 PubMed: 29989465
Judelson DA, Bagley JR, Schumacher JM, and LD Wiersma (2015). Cardiovascular and perceptual responses to an ultra-endurance channel swim: a case study. Wilderness and Environmental Medicine, 26 (3) 359-365 PubMed: 25819111
Health Technology
Lorenz KA, Yeshurun S, Aziz R, Ortiz-Delatorre J, Bagley JR, Mor M, and M Kern (2021). A handheld metabolic device (Lumen®) to measure fuel utilization in healthy young adults: device validation study. Interactive Journal of Medical Research. 10(2): e25371. PubMed: 33870899
Hood KM, Marr C, Kirk-Sorrow J, Farmer J, Lee CM, Kern M, and JR Bagley (2019). Validity and reliability of a Wi-Fi smart scale to estimate body composition. Health & Technology, 9:839-846.
Gomez DH, Bagley JR, Bolter N, Kern M, and CM Lee (2018). Metabolic cost and exercise intensity during activevirtual reality gaming. Games for Health Journal, 7(5), 3010-316. PubMed: 30325233
Textbooks/Chapters
Bagley JR and CM Lee (2020). Laboratory Experiences in Exercise Physiology (1st Ed.). Kendall-Hunt Publishing, Dubuque, IA.
Galpin AJ and JR Bagley (2016). "Chapter 11: Torso Exercises". Strength Training (2nd Ed.) National Strength and Conditioning Association (NSCA), Lee E. Brown (Editor). Human Kinetics, Champaign, IL. Pages 241-266.
Teaching
KIN 355 - Science, Sport & Fitness
KIN 482 - Exercise Physiology
KIN 555 - Exercise Testing & Prescription
KIN 683 - Advanced Exercise Physiology
KIN 781 - Muscle Physiology
Download Adobe Reader. The documents on this website have been identified as having barriers to accessibility. The site owner is working to remedy these access barriers. If you experience problems using this site/the documents, contact kin.sfsu.edu.