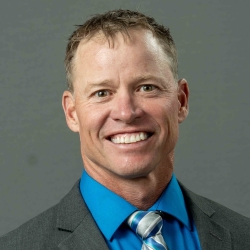 Phone: (415) 338-2244
Email: cmlee@sfsu.edu
Location: Gym 101
Dr. Lee's research focuses on clinical exercise physiology and autonomic nervous system control of the cardiovascular system; validation of exercise monitoring devices. Techniques utilized include heart rate variability, heart rate recovery, and baroreflex sensitivity.
Dr. Lee is a Fellow of the American College of Sports Medicine and was awarded the 2022 SWACSM Recognition Award.
Selected Publications
Hood, K., Marr, C., Kirk-Sorrow, J., Farmer IV, J., Lee, C.M., Kern, M., and Bagley, J.R. Validity and reliability of a Wi-Fi smart scale to estimate body composition. Health and Technology, 9(5): 839–846, 2019.

Durk, R., E. Castillo, L. Marquez-Magana, G. Grosicki, N. Bolter, C.M. Lee, and J. Bagley. Gut Microbiota Composition is Related to Cardiorespiratory Fitness in Healthy Young Adults. International Journal of Sport Nutrition & Exercise Metabolism, 29(3):249-253, 2019.

Gomez, D., J. Bagley, N. Bolter, M. Kern, and C.M. Lee. Metabolic Cost and Exercise Intensity During Active Virtual Reality Gaming. Games for Health Journal, 7(5): 310-316, 2018.

Lee, C.M. Fundamentals of Exercise Physiology (Online Textbook). Great River Learning, Dubuque, IA. (2017) ISBN: 9781680752298.

Myles, J. & C.M. Lee. Influence of Different Recovery Modalities on Basketball-Related Performance Tasks. International Journal of Applied Exercise Physiology, 6 (1): 40-48, 2017

Lee, C.M. R. Seligman, M. Kern. The Influence of Aerobic Exercise Frequency on Heart Rate Variability. Presented at American College of Sports Medicine Annual Meeting, San Diego, CA May 5 Published in Medicine and Science in Sports and Exercise, 47: 5, 2015.

Lee, C.M., A. Mendoza. Accuracy of Handgrip Sensors to Measure Heart Rate During Rest and Exercise. Journal of Physical Activity, Sports and Exercise, 1(1): 60-66, 2013.

Lee, C.M. and A. Mendoza. Dissociation of heart rate variability and heart rate recovery in well-trained athletes. European Journal of Applied Physiology, 112(7): 2757-2766, 2012.

Ghiya, S. and C.M. Lee. Influence of Alternate Nostril Breathing on Heart Rate Variability in Non-Practitioners of Yogic Breathing. International Journal of Yoga, 5: 66-69, 2012.

Lee, C.M., Gorelick, M. & Mendoza, A. Accuracy of an infrared LED device to measure heart rate and energy expenditure during rest and exercise. Journal of Sports Sciences, 29: 1645-1653, 2011.
Courses Taught
KIN 482: Exercise Physiology

KIN 555: Exercise Testing and Prescription

KIN 742: Exercise and Cardiovascular Dynamics

KIN 746: Clinical Exercise Physiology

KIN 755: Exercise Electrocardiography, Testing, and Prescription