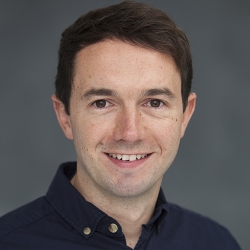 Email: mjdixon@sfsu.edu
Location: Gym 142
Martin Dixon is a lecturer specializing in motor learning, sport coaching, and research methods. Having coached in a range of elite youth and college environments, his teaching is underpinned by a wealth of practical experience and is informed by his research into sports coaching, stress, and reflective practice.
 
Education
MSc Coaching Science. University of the West of England.
BSc Sport and Exercise Science. Nottingham Trent University.
Research Interests
He is currently studying for a PhD at Staffordshire University in the UK. His project examines sport coaches' experiences of stress, and coaches' use of reflection to manage performance demands.
Selected Publications
Dixon, M., & Bolter, N. B. (2023). Collegiate coaches' reflective inquiry processes to manage performance demands. International Sport Coaching Journal, (aop), 1-10. https://doi.org/10.1123/iscj.2022-0045
Dixon, M., Lee, C., & Corrigan, C. (2021). 'We were all looking at them quite critically': collaborative reflection on a university-based coach education program. Reflective Practice, 22(2), 203-218. https://doi.org/10.1080/14623943.2021.1873759
Dixon, M., & Turner, M. J. (2018). Stress appraisals of UK soccer academy coaches: an interpretative phenomenological analysis. Qualitative Research in Sport, Exercise and Health,10(5), 620-634. https://doi.org/10.1080/2159676X.2018.1464055
Dixon, M., Turner, M. J., & Gillman, J. (2017). Examining the relationships between challenge and threat cognitive appraisals and coaching behaviours in football coaches. Journal of Sports Sciences, 35(24), 2446-2452. https://doi.org/10.1080/02640414.2016.1273538
Teaching
KIN 570: Directed Coaching Experience
KIN 486: Motor Learning
KIN 384: Research Methods in Kinesiology (GWAR)
KIN 331: Peak Performance