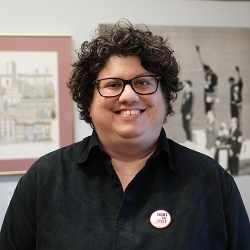 Phone: (415) 338-1746
Email: mjveri@sfsu.edu
Location: Gym 141
Research Interests
My research interests include examining gender, race, and politics in sport; how critical pedagogy and social justice can transform teaching practice and student learning; and the intersection of food, sport, and identity from a cultural studies and historical perspective.
Research Descriptions
I am currently at work on a book about tailgating culture in the United States with Dr. Rita Liberti of CSU East Bay. For this project, we are presenting a cultural history of tailgating; analyzing cultural representations of tailgating in cookbooks, tv and film, social media, and advertising; and discussing the lived experiences of tailgaters, all with a focus on masculinity, football, and food practices.
I recently completed a book chapter on the history of the Oakland Raiders and Raider Nation in the context of Oakland city politics. This chapter will appear in a SF Bay Area sport history anthology, to be published in early 2017 by University of Arkansas Press.  I am also researching and writing about the American dairy industry's use of celebrity male athletes in its advertising and promotional campaigns of the twentieth century.
Select Publications
Veri, M.J. (in press). "Sons of Oakland: The Raiders and the Rais/zing of a City." In R. Liberti & M. Smith (Eds.), San Francisco Bay Area Sport History, Little Rock, AK: University of Arkansas Press (expected publication date: early 2017).
Veri, M.J. (2016). Got Athletes?: The Use of Male Athlete Celebrity Endorsers in Early Twentieth-Century Dairy-Industry Promotions. Journal of Sport History, 43(3), 290-305.
Willard, J., Walsh, D., & Veri, M.J. (2015).  The Kinesiology Career Club: Undergraduate Student Mentor Perspectives on a Physical Activity-based TPSR Program. The Physical Educator, 72(2), 317-339.
Burns, K.A. & Veri, M.J. (2015).  A Queer Analysis of HBO's Flight of the Conchords. Journal of Gender Studies, 24(6), 605-620. 
Veri, M.J., & Liberti, R.M. (2013). Tailgate Warriors: Exploring constructions of masculinity, food, and football.  Journal of Sport & Social Issues, 37, 227-244.
Walsh, D., Veri, M.J., & Scobie, D. (2012).  Impact of the Kinesiology Career Club: A TPSR-based possible futures program for youth in underserved communities.  Agora.
Veri, M.J., & Walsh, D. (2012).  Intersections between Sport Management and Youth Development. Journal of Physical Education and Sports Management, 3(4), 50-55.
Zieff, S.G., & Veri, M.J.  (2009). Obesity, health, and physical activity: Discourses from the United States.  Quest, 61, 154-179.
Veri, M.J. (2006).  Etched impressions: Student writing as engaged pedagogy in the graduate sport management classroom.  Quest, 58(4), 444-465.
Veri, M.J.  (1999).  Homophobic discourse surrounding the female athlete.  Quest, 51,355-368.
Teaching
Kin 322 Sport in America
Kin 457 Culture, Gender, & Movement
Kin 490 Introduction to Sport & Fitness Management
Kin 502 Sport & Social Issues
Kin 504 Sport & Exercise Psychology
Kin 510 Sport, Movement, & Screen Culture