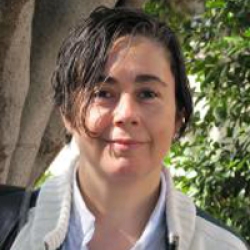 Phone: (415) 338-2160
Email: cguedes@sfsu.edu
Location: Gym 136
Claudia Guedes' research focuses on the history of women's basketball in Brazil and the benefits of sport for children and adolescents education.
Claudia Guedes' book "Mulheres a Cesta: Historia do Basquetebol Feminino no Brasil – 1892- 1971 is the first book published in Brazilian women's basketball history. This book is in its third edition, including an eBook format (https://mulheresacesta.com.br/en/o-livro/). Recently it became a documentary titled "Mulheres a Cesta," narrowing the VI World Women's Basketball Tournament event in which the Brazilian National team received the bronze medal.
The movie is entirely based on the book, was produced by the author, and is available at www.mulheresacesta.com.br/documentario with English subtitles (click on cc if it does not launch automatically).
In 2022, the movie "Mulheres a Cesta" was awarded Best Movie from the Lisbon Sports Film Festival under the category of Sport and Society. https://www.lisbonsportfilmfestival.com/anuncio-dos-filmes-premiados/.
Claudia Guedes's current research projects examine women's basketball and its inclusion as an Olympic Sport, adolescent girls and sports avoidance, and the concept of equity in competitive sports during adolescence.
LinkedIn: https://www.linkedin.com/in/claudia-guedes-6514b228/  
Academia: https://sfsu.academia.edu/ClaudiaGuedes
Website: www.mulheresacesta.com.br 
Teaching
KIN 240 Introduction to Teaching Physical Education (Units: 3)
KIN 401 Elementary School Physical Education: K-5 (Units: 3)
KIN 751 Curriculum and Instruction II: Physical Education (Units: 3)